The Xbox 360 is the successor to Microsoft's Xbox video game console. Microsoft began releasing information on it through viral marketing campaigns and officially unveiled it on MTV on May 12, 2005, with detailed launch and game information divulged later that month at the prominent Electronic Entertainment Expo. Upon its release on November 22, 2005 in North America, December 2 in Europe, and December 10 in Japan and Mexico, the Xbox 360 became the first console to have a simultaneous launch across the three major regions. It also serves as the first entrant in a new generation of game consoles and will compete against Sony's PlayStation 3 and Nintendo's Wii. Microsoft believes that its push towards High-definition gaming, year-early headstart and its Xbox Live online gaming service will help in the console's success.
Aside from the powerful hardware, the 360 features an enhanced Xbox Live service, with downloadable games, previews, and demos. It also has a game match service that is available for an added fee. Already released in the US, Canada, Europe, and Japan, X360 will be released in Hong Kong, South Korea, New Zealand, and Australia in the first quarter of 2006.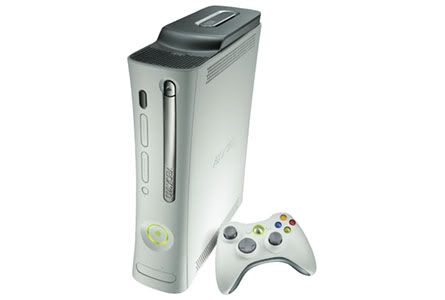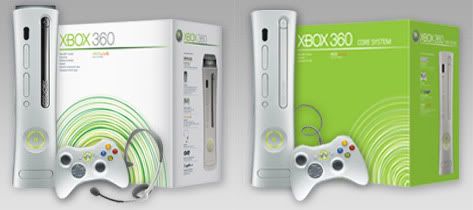 Basic X360 hardware specs
(more detailed specs)
Three symmetrical cores running at 3.2 GHz each
500MHz processor in custom ATI R500 video card
10 MB of embedded DRAM
Unified shader architecture
500 million triangles per second
512 MB of GDDR3 RAM
700 MHz of DDR
Detachable and upgradeable 20GB hard drive
12x dual-layer DVD-ROM
Memory Unit support starting at 64 MB
Support for up to four wireless game controllers
Three USB 2.0 ports
Two memory unit slots
All games supported at 16:9, 720p, and 1080i, 2x anti-aliasing
Standard-definition and high-definition video output supported
32-bit audio processing
Over 256 audio channels
Initially, two official bundles were released, not including all the bundling aftermarket companies have done. Both releases are based on the exact same hardware specs. The two bundles range in price from $100 to $299 MSPR for the "core" system and $399 MSRP for the premium system.
30 day trial to xbox live (gold membership)
For more details Click Here
"The blogs which i have posted here are the some of information sharing with people. As far as I know i m not doing any Money or Business. No copyright infringement is intended. If you think that there is any violation of any rights, please let me know and I shall immediately remove the blogs from here."
Feedbacks: We appreciate feedbacks and suggestions about our website info@techgyaan.org